Another week, another slate of telling games.
Week 10 of the NFL taught us a lot about the contenders and pretenders for the Super Bowl this year. Just when we think we know everything there is to know about the league's best teams, glaring flaws arise that make us question whether we should take those teams seriously. Week 11 of the NFL promises a plethora of telling games, and may be the final nail in the coffin for teams barely hanging on to their playoff chances.
Last Week: 10-4
Overall: 87-59
Tennessee Titans at Pittsburgh Steelers (Thursday Night Football)
The Titans could easily be 3-6 this year considering their uninspired wins against the Browns, Ravens, and Bengals were close contests throughout. They end their stretch against the AFC North against the Steelers, who probably should have lost to the Colts last week considering their dreadful performance.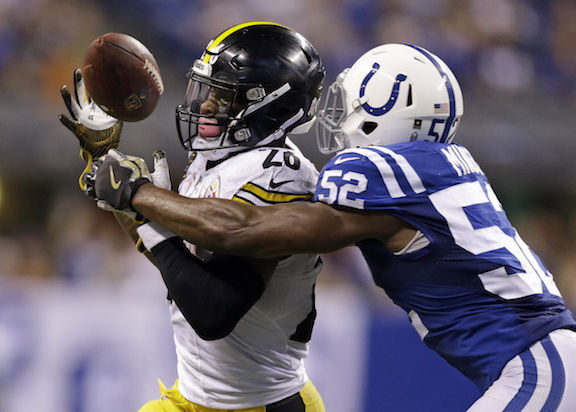 Winner: Steelers
Detroit Lions at Chicago Bears
Bears coach John Fox challenged a play on Sunday against the Packers thinking they scored a touchdown. The call was changed to a touchback. If that isn't a perfect encapsulation of the Bears season, then maybe a loss to the Lions will be.
Winner: Lions
Baltimore Ravens at Green Bay Packers
The Packers seemed dead a couple of weeks ago, but they have a stretch of winnable games starting this week against the Ravens that could keep them in the playoff picture. Ravens QB Joe Flacco may no longer be elite, but his elite defense will stifle Packers QB Brett Humdley.
Winner: Ravens
Jacksonville Jaguars at Cleveland Browns
The Browns browned by trying a QB sneak at the end of the first half last week, only to have time expire and without points before halftime. Jaguars QB Blake Bortles Bortled by throwing 2 interceptions late in the game, and somehow the Jaguars won. Imagine if the Jags had an actual QB.
Winner: Jaguars
Arizona Cardinals at Houston Texans
Both teams have had to resort to playing their back-up QBs this season due to their starters being injured. The Cardinals may have to start 3rd string QB Blaine Gabbert if Drew Stanton can't go, but the Texans have to start QB Tom Savage, who can't move to save his life.
Winner: Cardinals
Los Angeles Rams at Minnesota Vikings
This is the first of a four out of five game stretch that will tell us if the Rams are true contenders. Going on the road against a vaunted Vikings defense will be tough for the league's top offense to overcome, and the Vikings may eventually have to re-insert QB Teddy Bridgewater into the lineup should QB Case Keenum revert back to his Jeff Fischer coached Rams days.
Winner: Vikings
Washington Redskins at New Orleans Saints
The Saints are winning the good 'ole fashioned way: running the ball effectively and playing stellar defense. It's a luxury for them to also have future Hall of Fame QB Drew Brees, who finally does not have to carry the team on his back.
Winner: Saints
Kansas City Chiefs at New York Giants
The Giants have given up on coach Ben McAdoo after their embarrassing loss to the winless 49ers. Why the Giants haven't fired him yet remains the most questionable coaching decision this year.
Winner: Chiefs
Tampa Bay Buccaneers at Miami Dolphins
Playing on what was supposed the bye week for both of these teams, both teams have failed to match pre-season expectations. This battle of Florida will come down to which turnover-prone QB, Jay Cutler of the Dolphins and Ryan Fitzpatrick of the Buccaneers, commits the least amount of turnovers.
Winner: Buccaneers
Buffalo Bills at Los Angeles Chargers
The Bills have benched QB Tyron Taylor for rookie 5th round pick Nathan Peterman, and are officially pretenders. The Chargers keep finding ways to lose, so this one is anyone's guess.
Winner: Chargers
Cincinnati Bengals at Denver Broncos
The Broncos' offense has officially reached rock bottom, with their lone highlight last week being QB Brock Osweiler plunking some guy on the sideline with an incompletion. Remember when this team trounced the Dallas Cowboys?
Winner: Bengals
New England Patriots at Oakland Raiders (Game in Mexico City, Mexico)
Raiders owner Mar Davis yuked it up this week at the ground breaking ceremony for the team's new Las Vegas stadium, playing a shovel like an air guitar and looking like s fool in the process. Patriots QB may have the Raiders secondary looking foolish this week, as they have yet to record an interception this season.
Winner: Patriots
Philadelphia Eagles at Dallas Cowboys (Sunday Night Football)
While all of us focused on the loss of RB Ezekiel Elliott, the Cowboys missed T Tyron Smith and LB Sean Lee even more against the Falcons last week. It's too much of an ask for them to beat a scary good Eagles team coming off their bye week.
Winner: Eagles
Atlanta Falcons at Seattle Seahawks (Monday Night Football)
The Falcons toyed with the Cowboys last week, proving they're the most inconsistent team in the NFL on a weekly basis. They should be able to move the ball on a Richard Sherman-less Seattle secondary, but given their aforementioned title, Seattle could sneak away with an important home game to keep pace with the NFC West leading Rams.
Winner: Seahawks