Super Bowl 52 came and went, but does it crack the top 10 of the greatest Super Bowls of all time?
Despite its grandiose nature, the Super Bowl is often a one-sided affair and relatively uncompelling. Every so often, however, we get a Super Bowl that is actually competitive and exciting, and it's important to cherish these games since they don't come around often. The top 10 Super Bowls of all time are:
10. Super Bowl V: Baltimore Colts V. Dallas Cowboys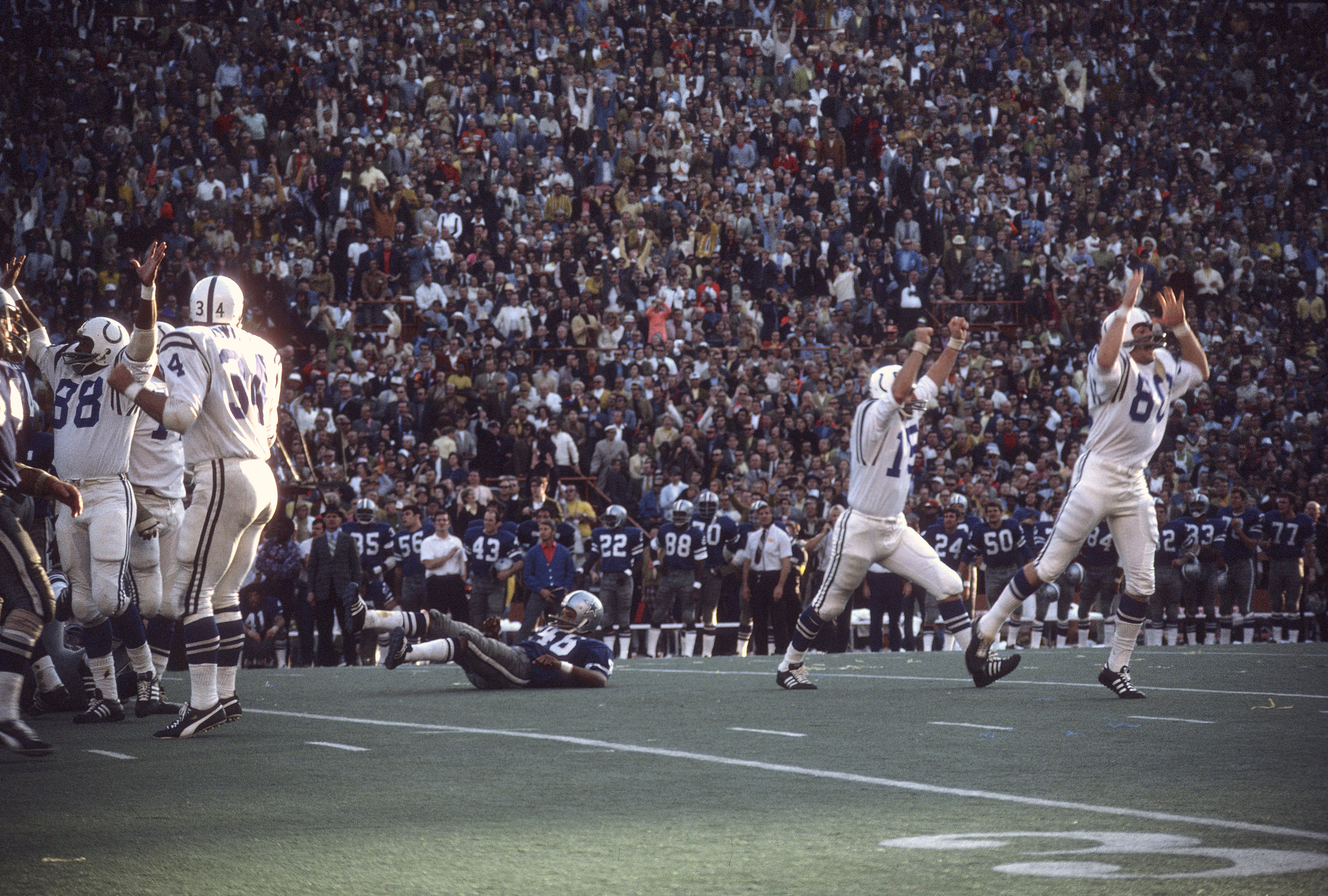 Also known as "The Stupor Bowl", this game is often ranked as one of the worst games of all-time due to its sloppy play, but it's undeserved. Sure the game featured 11 turnovers combined, a missed PAT, and even some officiating miscues, but Super Bowl V was a back and forth contest that came down to the final play of the game: a 32 yard field goal by Colts kicker Jim O'Brien. If that doesn't qualify as a great Super Bowl, then what does?
9. Super Bowl XXXII: Denver Broncos V. Green Bay Packers
After agonizing defeat after defeat, Super Bowl XXXII was shaping up as another disappointment for Denver's QB John Elway, as the Broncos were 14 point underdogs against the reigning Super Bowl champion Packers, who were led by QB Brett Farve. Super Bowl XXXII went down to the wire, and featured one of the most iconic plays in Super Bowl history, when Elway launched himself in the air in the hopes of gaining a first down, and was hit and spun around like a helicopter. Talk about a heart of a champion.
8. Super Bowl XXXVI: New England Patriots V. St. Louis Rams
In the wake of 9/11, how fitting was it that a team called the Patriots pulled off an incredible upset against the then St. Louis Rams "Greatest Show on Turf"? Sure, allegations of cheating have marred the Patriots dynasty, but it was the first Super Bowl appearance and victory in their remarkable 18 year run that featured an enthralling game winning field goal from New England kicker Adam Vinatieri.
7. Super Bowl LII: Philadelphia Eagles V. New England Patriots
This year's Super Bowl featured one of the more exciting games in the big game's history. A back and forth contest that saw the Eagles and Patriots combine for 1,151 yards offensively and featured only one key defensive play late in the fourth quarter, it also featured a blown lead and two comebacks. Somehow, the Eagles managed to shake-off their choker label and win their first Super Bowl in franchise history, and Super Bowl LII should be remembered as an all time great Super Bowl.
6. Super Bowl XIII: Pittsburgh Steelers V. Dallas Cowboys
Two of the NFL's most iconic franchises did battle for the second time in four years, and this one was one for the ages. An offensive explosion that featured seven touchdown passes from future hall of fame QBs, Pittsburgh Steelers QB Terry Bradshaw and Dallas Cowboys QB Roger Staubach, the game gave us another iconic Super Bowl moment when Cowboys TE Jackie Smith dropped a pass in the end zone that would've tied the game at 21. The Cowboys would never recover, and the Steelers walked away with their 3rd Lombardi Trophy in a thrilling contest.
5. Super Bowl XXIII: San Francisco 49ers V. Cincinnati Bengals
Another re-match bowl, Joe Montana and the 49ers capped off their 3rd Super Bowl victory with a 92-yard touchdown drive that all started with a spotting of comedy legend John Candy in the stands. To win the game, Montana threw a 10-yard touchdown to WR John Taylor, his only catch of the game. It added to Montana's legend as "Joe Cool", and was the last game Niners coach Bill Walsh roamed the sidelines on as a member of the organization.
4. Super Bowl XXV: New York Giants V. Buffalo Bills
After New York executed a game plan that kept the ball out of the explosive Bills no-huddle offense, Buffalo still had a chance to win the game with a 47-yard field goal with eight seconds left. Bills K Scott Norwood missed the kick wide right, a thrilling finish to a game that would mark the end of coach Bill Parcel's tenure with the Giants and the beginning of the Bills four straight Super Bowl appearances in the 90s. Broadcasting legend Al Michaels' two words, "wide right", continues to haunt the city of Buffalo to this day.
3. Super Bowl XXXIV: St. Louis Rams V. Tennessee Titans
Sure, the Rams at one point led the game 16-0, but Steve McNair and the Titans led a furious comeback to tie the game at 16. After Rams QB and league MVP Kurt Warner threw a 73 yard TD pass to WR Isaac Bruce, the Titans had a chance to win the game with 1:54 left. On the final play of the game, McNair completed a pass to WR Kevin Dyson, who was tackled by Rams LB Mike Jones 1-yard short of the goal line. One. Yard. Short. Perhaps the greatest finish in Super Bowl and NFL history.
2. Super Bowl XLIII: Pittsburgh Steelers V. Arizona Cardinals
For the Steelers, appearing in Super Bowls is second nature. For the Cardinals, it seemed like a pipe dream. A close contest throughout, Super Bowl XLIII gave fans one of the greatest plays in football history when Steelers LB James Harrison intercepted a pass from Cardinals future hall of fame QB Kurt Warner and returned it 100 yards for a touchdown before halftime. The Cardinals would battle back valiantly, scoring the game's next two touchdowns, including a 64-yard touchdown reception by WR Larry Fitzgerald, which gave Arizona a three point lead with 2:37 remaining. Pittsburgh QB Ben Roethlisberger then led the Steelers on an 8 play, 78-yard drive that was capped off by WR Santonio Holmes' terrific tip-toe catch in the back of the end zone to secure Pittburgh's 6th Lombardi trophy, the most in NFL history.
1. Super Bowl XLII New York Giants V. New England Patriots
With the prospect of a perfect season on the line, the New England Patriots had only one game to win in order to immortalized as the greatest team ever. The New York Giants had other plans. The game was a 7-3 score stalemate throughout until an amazing fourth quarter took place. First, the Giants took the lead after QB Eli Manning threw a 5-yard touchdown pass to unknown WR David Tyree (*more on him later) to give the Giants a 10-7 lead. Just a few possessions later, Patriots QB Tom Brady did what he does best by leading a 12 play, 80-yard drive that resulted in a 6-yard touchdown pass to WR Randy Moss to give the Patriots a 14-10 lead. On the Giants final possession, Eli Manning escaped the clutches of Patriots DE Richard Seymour and DE Jarvis Green and delivered a 32-yard completion to WR David Tyree, who out-jumped Patriots All-Pro S Rodney Harrison and caught the ball by pinning it to his helmet in what is now referred to as "The Helmet Catch." Four plays later, Manning tossed a 13-yard touchdown pass to WR Plaxico Burress to cap the upset of the century, and the greatest Super Bowl of all-time.