Playoff spots on the line paired with bad officiating? What's the worst that could happen?
Week 15 of the NFL might have been one of the most controversial weeks in the NFL this season, no thanks to the men in stripes.
First, in the pivotal AFC match-up between the New England Patriots and the Pittsburgh Steelers, NFL referees continued to make us beg the question: What's a catch?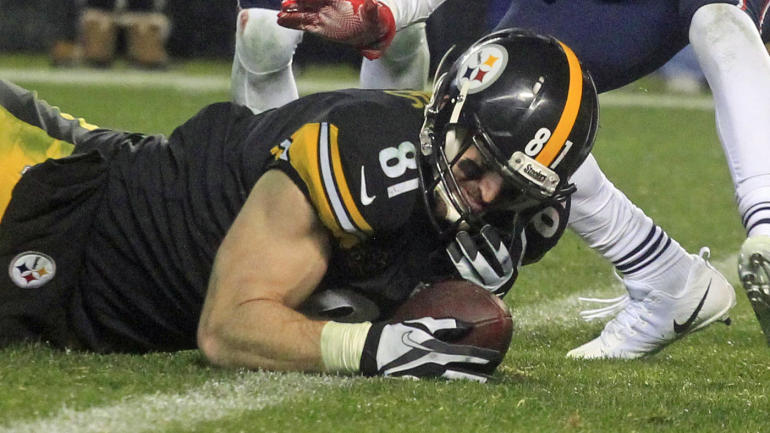 Most would agree, that call reversal not only determined the outcome of the game, but might have been one of the bigger blown calls in the league this year. Surely nothing could top it, right?
Gene Steratore, who officiated the Dallas Cowboys match-up against the Oakland Raiders, said "hold my beer."
A first down was determined by a folded piece of paper. And many wonder why the NFL's ratings have dipped this year.
Last Week: 12-4
Overall: 143-81
Indianapolis Colts at Baltimore Ravens (Saturday Afternoon)
Colts QB Andrew Luck is going to test out his surgically repaired throwing shoulder to see if it needs more surgery. The fate of the Colts' future rests upon the health of his shoulder, while the Ravens are gunning for a wild card spot in the AFC.
Winner: Ravens
Minnesota Vikings at Green Bay Packers (Saturday Night)
After trotting out Aaron Rodgers for one interception filled game against the Panthers, the Packers have shut down their franchise QB for the remainder of the season now that they are eliminated from playoff contention. Back-up QB Brett Hundley going up against the Vikings vaunted defense? Merry Christmas cheese heads.
Winner: Vikings
Tampa Bay Buccaneers at Carolina Panthers
The Panthers are embroiled in controversy at the moment due to owner Jerry Richardson's boorish behavior and decision to sell the team come seasons end. Apparently Diddy wants to own the team, and (*still not signed*) Colin Kaepernick and NBA superstar Stephen Curry want in on the action. Imagine those guys in a room with a bunch of old white men…
Winner: Panthers
Detroit Lions at Cincinnati Bengals
Rumors surfaced last Sunday Bengals head coach Marvin Lewis will be leaving at the conclusion of the season. He of course said there's nothing to these reports, but if his team's effort against the Vikings was any indication, Cincinnati will be looking for a new coach come next year. Paging Hue Jackson of the Cleveland Browns…
Winner: Lions
Miami Dolphins at Kansas City Chiefs
Don't look now, but the Chiefs seem to have regained their explosive form from earlier this season after two dominating wins over the Raiders and Chargers. Meanwhile, Miami Dolphins QB Jay Cutler has been non-committal in regards to his future. How smokin' Jay Cutler of him.
Winner: Chiefs
Buffalo Bills at New England Patriots
If we are to take him at his word, Bills CB Tre'Davious White claims "The whole hood want him" in regards to getting back at Patriots TE Rob Gronkowski for his dirty hit on him just weeks ago. Also, Tom Brady's snake oil salesman/ trainer, Alex Guerrero, has had his sideline and team plane privileges revoked. Is trouble brewing in title town?
Winner: Patriots
Atlanta Falcons at New Orleans Saints
The Falcons are somehow still in the race for the NFC South division title, but one would be shocked to learn the Falcons rank in the top 10 in total offense and total defense. The Saints will be in for a dog fight this week, and can't afford to slip-up against the Falcons again after their week 14 debacle against them.
Winner: Saints
Cleveland Browns at Chicago Bears
It's now or never Brownies…
Winner: Browns
Los Angeles Chargers at New York Jets
The Chargers once again let everyone down by laying an egg at Arrowhead last week. They still have a shot at the division if the win out and get some help, and they catch a huge break by first facing the QB-less Jets.
Winner: Chargers
Los Angeles Rams at Tennessee Titans
Just one year ago, 2016 number 1 pick Jared Goff looked like a bust. Now, he's thriving under the tutelage of sure-fire coach of the year winner Sean McVay. Meanwhile, the Titans have started floundering at the wrong time, and are now in danger of missing out on the playoffs for the ninth straight year.
Winner: Rams
Denver Broncos at Washington Redskins
Inexplicably, the Broncos are on a two game winning streak despite not having a quarterback. If Paxton Lynch is healthy, he needs to play to see if he is in the franchise's plans for the future. That bodes well for the mediocre Redskins, who still can't decide if QB Kirk (*or Kurt?*) Cousins figures into their plans for the future.
Winner: Redskins
Jacksonville Jaguars at San Francisco 49ers
The 49ers got a franchise QB in exchange for a second round pick. This could end up being one of the nest trades in NFL history if Jimmy Garoppolo can keep up his winning ways. And despite his reputation, Jaguars QB Blake Bortles hasn't been trash, throwing for 10 touchdowns and 0 interceptions the last 3 games, guiding the Jaguars to their first playoff berth since 2007.
Winner: Jaguars
New York Giants at Arizona Cardinals
Neither team is having a good season despite being playoff hopefuls at the start of the season. Giants QB Eli Manning has rebounded well enough from his benching, throwing for 4 touchdowns his last two games. He's not what he once was, but he's got enough in the tank to get a win this week and to show teams he can still help a contender next year.
Winner: Giants
Seattle Seahawks at Dallas Cowboys
At 8-6, the Cowboys are still alive in the NFC playoff picture and get star RB Ezekiel Elliott back just in time for one last playoff push. The Seahawks, on the other hand, are imploding. Star defensive players Earl Thomas and Bobby Wagner are feuding, and it may be time to blow up the Legion of Boom.
Winner: Cowboys
Pittsburgh Steelers at Houston Texans
In a game in which star WR Antonio Brown was taken out in the first half, the Steelers were one blown call and bad decision away from seizing control of the AFC away from the Patriots. One would think the Steelers are due for a letdown this week, but a Christmas Day tilt against the Texans should alleviate any wounds leftover from last Sunday.
Winner: Steelers
Oakland Raiders at Philadelphia Eagles
The Raiders' staggeringly disappointing season can be summed up in one play/ one photo.
Winner: Eagles