A marvel for the culture.
Despite its near blemish-less resume, there are some who believe the Marvel Cinematic Universe, or MCU, has grown a bit stale and complacent. With numerous sequels to already established properties and retreads when making new films featuring other popular Marvel Comics characters, some of those detractors aren't necessarily wrong for wanting Disney's Marvel Studios to be more flavorful than vanilla. However, when trailers dropped last summer for Black Panther, not only did Marvel seem to answer some of those critics, but also excited the already established fan-base and gained the intrigue of the uninitiated.  Months later, Black Panther has clawed its way into theaters as one of the most daring and original films the Marvel machine has ever released.
Black Panther takes place after the events of Captain America: Civil War, as the new king of the secret African nation Wakanda, T'Challa (Chadwick Boseman), assumes the throne shortly after the assassination of his father and former king of Wakanda, T'Chaka (John Kani). While T'Challa struggles with feelings of uneasiness in taking over, some of Wakanda's greatest resource, vibranium, has been stolen by the nation's arch nemesis and his unknown associate, "Klaw" (Andy Serkis) and "Killmonger" (Michael B. Jordan). With the prospect of their treasured resource being used as weapons to harm others and the threat of dark secrets of Wakanda possibly being revealed, T'Challa must don the armor of the Black Panther to put a stop to these enemies and protect Wakanda.
Black Panther is without a doubt the most involved film the Marvel Cinematic Universe has ever produced. While some have noticed the parallels of recent additions to the MCU, such as Doctor Strange and its similarities to Iron Man, Black Panther takes one of the most beloved black comic book characters and gives him the most original film Marvel has released in quite some time. The setting of Wakanda is realized in a way no other Marvel world has ever been before, as its vibrant colors and cultural personalities of each of the Wakandan tribes living there are on full display, making the world feel like a character in its own right. Much praise must be given to director Ryan Coogler, as the young director has graduated from small to medium budget independent and studio films to blockbuster level films with astronomical budgets with ease. The fact that Disney, a studio who has been marred by controversial interpretations of race over the years, allowed for a $200 million budget for a film with predominantly black actors and filmmakers to express their artistic capabilities with one of the studio's most prized money makers and didn't meddle with the production is astounding, and the results are nothing short of revolutionary.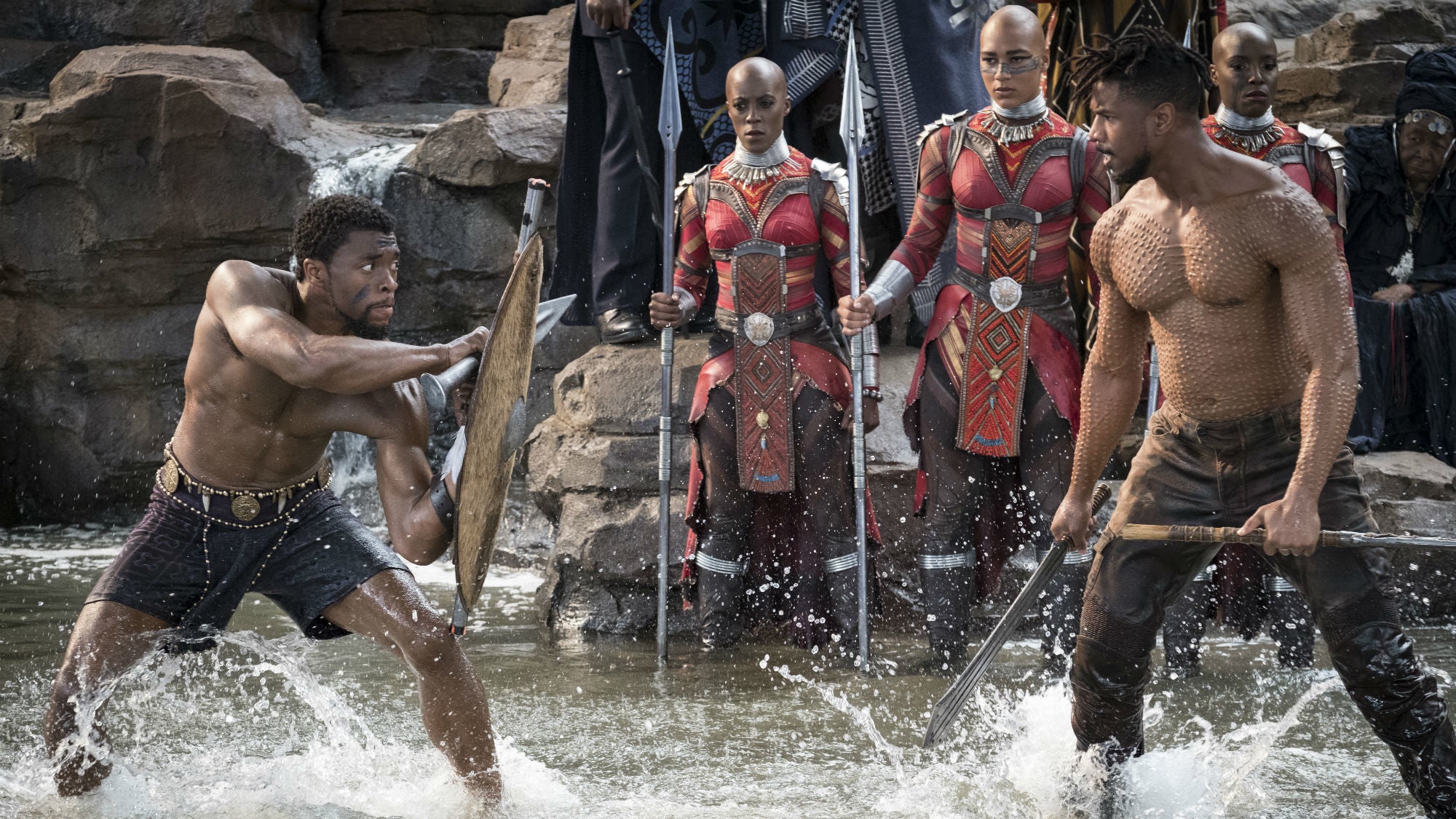 Black Panther also weaves a complex plot unlike any blockbuster, let alone a Marvel film, before. So often blockbusters are only popcorn flicks, where the mindset is to turn your brain off, watch things blow-up on screen, and have a good time without thinking too much. Not only does Black Panther provide such thrills, but it also highlights key social issues that continue to plague the world today. Important social commentary on the subjects of racism, colonialism, and nationalism are present throughout, and the storytellers do not shy away from them. This makes Black Panther even more incredible and groundbreaking not only in the MCU, but for Hollywood blockbusters as well, proving filmmakers can not only put their cultural stamp on a big-budgeted film, but can also emphasize important historical subject matters as well.
The main benefactor from the aforementioned themes is the film's main villain "Killmonger", played by Michael B. Jordan. Jordan and Coogler have created magic in the past as collaborators in Fruitvale Station and Creed, and it continues in Black Panther. "Killmonger" is a villain the audience not only understands, but can empathize with on many levels. His arch and motives incorporate the social issues highlighted earlier, and while understandable, also makes him a diabolical villain. Make no mistake about it, Jordan breaks ground as the villain, the best the MCU has ever created, and trumps even the great Andy Serkis in the film.
Somehow, this makes Boseman's somewhat stoic T'Challa one of the less interesting characters in the film, but we as an audience understand his plight as a king not only wanting to protect his nation, but also atone for its previous sins. Black Panther also features the strongest female characters in the MCU, most notably from Academy Award winner Lupita Nyong'o, Danai Gurira, and Letitia Wright. It's refreshing to see such strong female characters on screen, and the fact the film highlights them as Wakanda's warriors and protectors is daring and pays huge dividends. The rest of the ensemble cast, rounded out by Daniel Kaluuya, Forest Whitaker, Martin Freeman, Winston Duke, and Angela Basset, also acquit themselves well in the film, as each character shines in their own way.
Black Panther matters. It proves predominantly black filmmakers and actors can not only make a movie oozing with black culture competently, but also in a groundbreaking fashion. It's still jaw-dropping Disney in no way, shape, or form interfered with the production of the film and allowed the artists to fully realize their artistic ambitions, and the result is not just a beautiful and thrilling game-changing addition to the MCU, but for Hollywood blockbusters as well. If this glowing review along with the many others Black Panther has garnered results in huge box-office receipts, more films such as Black Panther should be on the way.
Rating: 4/4 Stars. Pay Full Price.
Black Panther stars Chadwick Boseman, Michael B. Jordan, Lupita Nyong'o, Danai Gurira, Martin Freeman, Daniel Kaluuya, Letitia Wright, Winston Duke, Angela Basset, John Kani, Forest Whitaker, and Andy Serkis. It is in theaters February 16th.