This is where the men separate themselves from the boys.
Week 10 of the NFL is coming at us fast, and at this point in the season, most teams know what direction they are heading in. That means there are opportunities for teams to separate themselves from others as true contenders, but there's also just enough time left for teams who got off to slow starts to recover and make a push for the playoffs.
Last Week: 9-4
Overall: 77-55
Seattle Seahawks at Arizona Cardinals (Thursday Night Football)
The Seahawks defense embarrassed themselves last week allowing the Redskins to drive all the way down the field for the game winning touchdown with under two minutes remaining in the game. They'll have a bounce back performance against the Drew Stanton led Cardinals.
Winner: Seahawks

Cincinnati Bengals at Tennessee Titans
The Titans were a popular pick to win the AFC South this year, but they haven't lived up to expectations as a team taking the next step towards contention. Meanwhile, the Bengals are too busy having MMA matches involving star WR A.J. Green to focus on winning.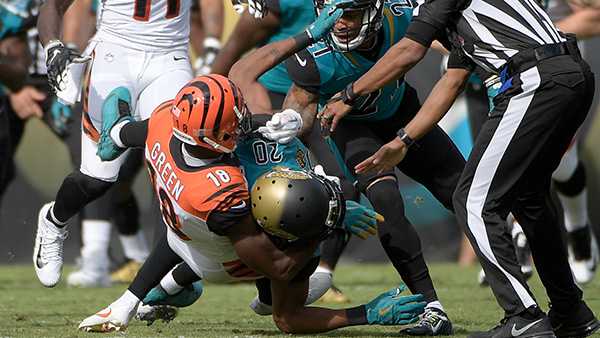 Winner: Titans
Cleveland Browns at Detroit Lions
Even with the 6-2 Vikings in their division, this is the perfect season for QB Matt Stafford to lead the Lions to an NFC North title considering Packers QB Aaron Rodgers is sidelined with a collar bone injury. They have to take care of business against the Browns, who recently reinstated former All-Pro WR Josh Gordon, who apparently was intoxicated in one form or another every game of his NFL career. That's what playing for the Browns will do to someone.
Winner: Lions
Los Angeles Chargers at Jacksonville Jaguars
The Jaguars won without stud rookie RB Leonard Fournette last week, who was suspended by the team for missing the Jaguar's team photo. That didn't matter much, as the Jaguars defense held the Bengals to 7 points. While the Chargers have somewhat rebounded from their 0-4 start, it's a tall order for them to travel across the country and beat a team that boasts one of the best defenses in the league.
Winner: Jaguars
New York Jets at Tampa Bay Buccaneers
Buccaneers QB Jameis Winston won't be tasting any "W's" any time soon, as he's out for a couple of weeks with a sprained shoulder. The Buccaneers will start Ryan Fitzpatrick at QB, who will want to enact revenge against his former team. This is the type of game the Jets need to win if they want to continue to avoid tanking,
Winner: Jets

Green Bay Packers at Chicago Bears
Packers head coach Mike McCarthy is going to be desposed in former NFL QB Colin Kaepernick's case in which he is accusing the league of collusion. Kaepernick may not have documentation of this, but anyone looking at how terrible the Packers are starting QB Brett Hundley in place of the injured Aaron Rodgers has to start to wonder if Kaepernick's kneeling during the National Anthem last year is the reason as to why he remains unsigned.
Winner: Bears
New Orleans Saints at Buffalo Bills
The Bills had a chance last week to show they're for real, and then they laid an egg on Thursday Night Football against the Jets. The Bills have had a record of .500 or better after playing eight games eight times since 1999. They failed to reach the playoffs each of those times. That trend seems like it could continue with a rough second half schedule, starting with a revived Saints team this week.
Winner: Saints
Pittsburgh Steelers at Indianapolis Colts
In immortal words of Nelly and Tim McGraw, "cause it's all in my head." That lyric best describes Colts QB Andrew Luck if you're listening to Colts owner Jim Irsay and former Colts coach Tony Dungy. Do you think Luck wants to play for Irsay?
Winner: Steelers
Minnesota Vikings at Washington Redskins
The Redskins pulled off an impressive victory over the Seahawks in Seattle last week, and they could still make some noise in the NFC East. The Vikings will have a decision to make between QBs Case Keenum, Teddy Bridgewater, and Sam Bradford in regards to who their starter will be, but with a defense that allows 282 yards per game, it might not matter much.
Winner: Vikings

Houston Texans at Los Angeles Rams
Say it loud: THE RAMS ARE FOR REAL. They've scored 30 or more points 5 times this year, and they're 5-0 in those games. It's a shame Texans rookie sensation QB Deshaun Watson is out for the season with a torn ACL, as this could've been a match-up featuring two young and now promising QBs in him and Jared Goff.
Winner: Rams

Dallas Cowboys at Atlanta Falcons
The 2nd U.S. Circuit Court of Appeals on Thursday denied Cowboys RB Ezekiel Elliott's appeal, meaning he will be suspended for at least this game against the Falcons. The Cowboys have a ferocious defensive line that will cause problems for the sputtering Falcons offense, and Cowboys QB Dak Prescott is more than capable without his troubled star RB.
Winner: Cowboys
New York Giants at San Francisco 49ers
The Giants are awful, and coach Ben McAdoo has supposedly lost the locker room with his constant player fines, throwing players under the bus, and tough practices. This is one of the few games remaining on the 49ers schedule they could win, but the 49ers are 0-9 for a reason, and 0-16 remains a real possibility.
Winner: Giants
New England Patriots at Denver Broncos (Sunday Night Football)
Including the postseason, Patriots QB Tom Brady is 7-9 in his career against the Broncos. Fortunately for him, the Broncos offense can't function to save their lives this season. They will trot out QB Brock Osweiler for the second straight week, and if you take Broncos head coach Vance Joseph's word for it, Osweiler gives the Broncos confidence. Did he watch the beating his team took in Philadelphia last week?
Winner: Patriots
Miami Dolphins at Carolina Panthers (Monday Night Football)
People keep doubting the Panthers this season for some odd reason. It could be because Panthers QB Cam Newton compared his team to the Titanic when asked about the team trading away WR Kelvin Benjamin. If he wanted to use the Titanic metaphor correctly, he would've used it to describe the Dolphins' playoff chances, as it's a miracle this team is 4-4 despite being one of the worst ranked offenses in the league. QB Jay Cutler probably should've stayed retired.
Winner: Panthers